Blogging platforms are a great way to speak your mind and share your perspectives. If you are a small business owner or a professional in any field, you can use free blogging platforms to connect with your audience/ customers, showcase your work, promote your business, inform your patrons about your upcoming plans, and much more.
Another important thing to note is to select the right blogging platform according to your specific personal or professional goals. Presently, many free blogging platforms are available to promote your passion/ business without spending a penny. Depending upon your specific requirements and niche, you may choose either of the free blogging platforms. Check out 7 free blogging platforms for different professional, their main highlights and downsides as well: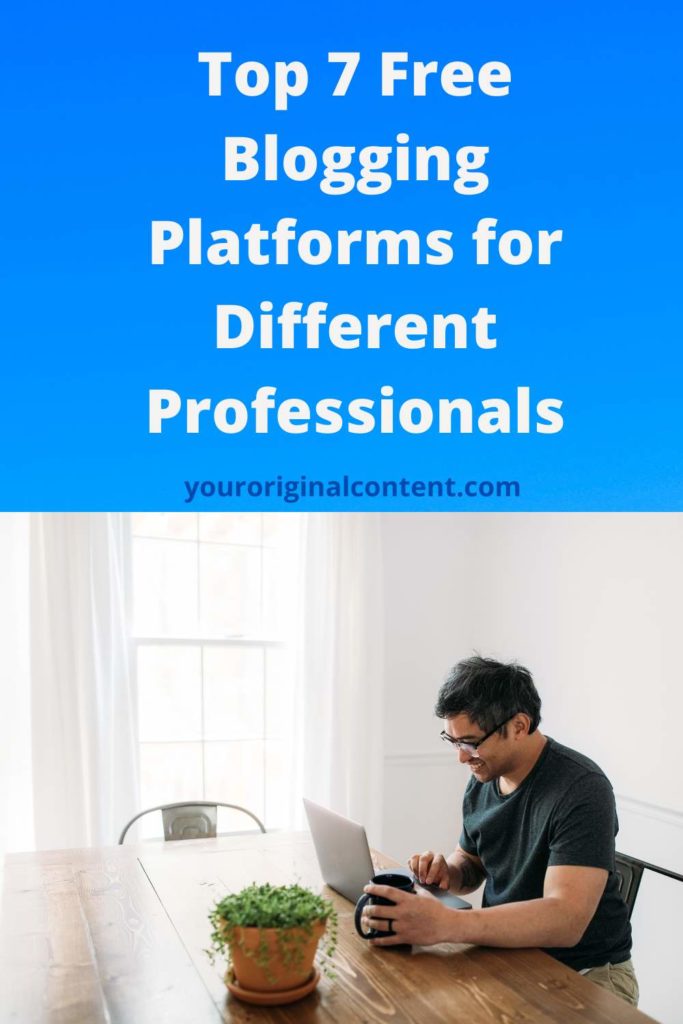 WordPress.com
 If you are looking for a free blogging platform with hosting, custom domain, social media integration, and other such outstanding features, then this is indeed the one for you. It is a popular free blogging platform where you can create and customize your blogs. Moreover, it is a great place for independent professionals. However, the free version has limited customization options.
To have a specific domain name, ability to monetize your web platform, and the freedom to customize the look and feel as well as the functionality of your website, you should try WordPress.org instead. It is another face of WordPress for small business owners and professionals who want to make the most for their business through the blogging platform.
Start your journey with Worpress.com now.
Medium.com
It is a good platform for writers who want to speak their minds and connect with an audience. It is a multipurpose platform where you get the freedom to write on diverse topics. One of the major advantages of Medium is that it helps you reach a wider audience.
Related post- How to work from home without being a guilt-ridden parent?
However, you will not own the content, and there are limited marketing features. So, if you are a writer and need a platform to be heard and recognized, it is the one to get started.
Start your journey with Medium.com now.
Blogger.com
 This one is another fantastic and old blogging medium where you can write and make a few bucks as well. It is best for personal bloggers, albeit not so good for professionals. However, you can still use the platform to have a hands-on experience of blogging, writing your thoughts, and connecting with your audience. One of the best features of this platform is the ability to use ad space within your content pieces.
Start your journey with Blogger.com now
Tumblr.com
This platform is best for professionals like photographers and graphic designers who want to publish short-form, image-focused content. In other words, Tumblr is more oriented towards multimedia content. It has a playful, easy-to-use interface, supports multiple post formats, and provides basic customization. Also, you can display ads or add affiliate links to your content.
Start your journey with Tumbler.com now
Weebly.com
It is a fantastic website builder for independent professionals and small business owners to showcase their portfolio, post blog content, and even sell their products. It provides a WYSIWYG editor that supports easy-to-use drag-and-drop elements. So, you can easily customize your posts, slide shows, and photo galleries with the click of a button. However, the site facilitates limited third-party integrations.
Start your journey with Weebly.com now
Drupal
 Drupal is perfect for small businesses, developers, designers, and editors who want to have an advanced, feature-rich website. You can access free modules, customize content types, manage user permissions, and write in multiple languages. It is a bit techier and less beginner-friendly in comparison to others. Besides that, it provides a complete content management system to businesses, along with great blogging.
Start your journey with Drupal now
Squarespace
 It is a beginner-friendly blogging platform ideal for professionals, business owners, and e-commerce stores that works on a subscription model. It is highly customizable, easy-to-use, supports built-in SSL encryption, and provides e-commerce functionality with many design templates. The only downsides are fewer third-party integrations and limited platform features.
Start your journey with Squarespace now
In the current era of e-commerce, blogging is important for SMEs and professionals. If you need any assistance with constant blog posting, you can consult experienced content professionals to help reach the maximum audience. Contact us now to kickstart your blogging journey!
Related post-
Can Blogging in a Down Economy Really Help?